You Can Go Home Again!
Can you guess the name of the South Jersey High School whose mascot appears at right? Read further to find out. 7/2/02.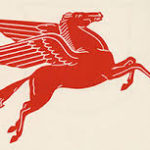 On May 14, 2002, I  returned to my old high school.  Due, in part, to my 15 minutes of fame from recognition as one of Computerworld's Top 100 IT Leaders, Lucia Pollino, principal of Paulsboro High School, and a PHS graduate herself, thought I would be a good person to speak to graduating seniors and academic achievers about careers in higher education.  Actually, I spoke less about careers than the way life moves you rather than the other way around.  But one of the unanticipated delights associated with this opportunity was a rekindling of old associations from the
Class of 1960. I wrote to members of classmates.com who had express a life or career goal in the yearbook.  I reached about a dozen classmates, all of who were delighted to hear from me and who wanted to share life lessons  with graduates of the Class of 2002. One of them, Thomas Elliott, sent me this photo of our 1960 diploma ceremony.  That is Tom receiving his diploma from Mr. Thompson,  and yours truly at right … waiting for Tom to exit.  Apparently, Tom, who was playing in the band, ran to the stage, entered from the wrong side and, according to him, "got an unwelcome laugh" when he stepped up to get his diploma.  No wonder I look surprised. So a big thanks to Tom for helping reconstruct a bit of my past. BTW, what goal was identified for me in the PHS yearbook? To become Mayor of Paulsboro!

Alter Hall Powerpoint for President
Movies.  [Judging from the datedness of the review that follows, it's obvious we haven't been to the movies lately.] My family and I recently saw a lovely little movie at the Ritz … Chocolat, a charming fable that is as rich as the confection which bears its name.  It stars  Juliette Binoche, Lena Olin, Johnny Depp, Judi Dench, Alfred Molina, Peter Stormare.  The movie was directed by Lasse Hallstrom (Cider House Rules and My Life as a Dog).  Beautiful cinematograpy and wonderful performances by an international cast.  Go see it! Read more at Movies.com.
Fox School Honored Again!
M
AX'S, located in a former Friends Meeting House on bustling Rt 130 in Cinnaminson, NJ, is our latest "find."  Faced with the daunting task of locating a quality r
estaurant for an anniversary luncheon on a chilly, rainy, June 3, I remembered a Craig LaBan review I read in the Philadelphia Inquirer.  Not one to award kudos lightly, Mr. LaBan praised the talents of Chef Alex Capasso,  particularly  his fish dishes. So, since I love fish and enjoy restaurants in old homes, I thought, "let's try it!" My wife, daughter, and I were not disappointed. We were greeted amiably by owner Robert Recchuiti who escorted us to a lovely little dining area that was probably once a comfortable living area or office for the advertising agency that formerly occupied the building, although we would have preferred the bright, windowed sun room located at the rear of the house. With few customers late on a Tuesday afternoon, they had apparently consolidated all service in this one area. Using my "house bread measure" as a food quality indicator, Max's past the first test with some very crusty, very good panne rustica accompanied by a delicate dipping oil. While Max's is a little pricey for dinner, you get a very good deal at lunch with their $25 per person prixe fix menu, which includes an appetizer and/or pasta, an entre, and dessert.  Max's is a BYOB, so we were surprised to see a climate controlled closet filled with wine next to our table.  Our waiter told us that's where they store the wine of their regular customers.  I thought, it's a good sign if foodies are committed enough to  leave their wine behind.  Judy had a garden salad.  I mocked her a little because it looked somewhat ordinary, but the smoked bacon and dijon dressing raised it to another level.  It was one of the more memorable dressings I had ever tasted.  I had an outstanding butternut squash, chicken stock soup and Adrienne had pillows for gnocchi. But for me the gold standard was the grouper over risotto I ordered as entre, delicately broiled and topped with lovely champagne reduction sauce.  Adrienne's tuna was pleasantly pink and tasty.  The one area where Max's could improve is in the dessert department.  There desserts are made off-premises, and while they were good (I had a tart-like tiramisu, Judy a lemon mousse and Adrienne a Napoleon), the restaurant could benefit from the addition of a budding and talented pastry chef.  All in all, the meal was outstanding.  We will return again and again.  BTW, we opened a '99 LVC Full Moon Zinfandel we purchased in the Livermore Valley.  A real winner! 602 Route 130, Cinnaminson , NJ, 856-663-6297.
Meet M
y Administrative Assistant
Niki (Nikita) Karia, a graduate student in the MBA/MIS program at Temple University, was hired this spring to help manage our two Link to Learn grants and to help with other techno projects in the Dean's Office.  Niki is a native of India, where she studied statistics at St. Xavier College in Bombay.  Before joining the Dean's Office, Niki was student webmaster and database administrator for Temple's Office of Parking Services. 2/4/02
  911.   No one who watched the horrific image of two commercial airliners assaulting those icons of American commerce, the twin towers at the World Trade Center in New York, will ever forget the sickening feeling when reality dawned … America was under attack from an unknown and unseen enemy. If ever we needed confirmation that evil exists in some tangible form, these terrorists who abhor all that this country and its people represent, and who espouse an ideology I don't  begin to understand, provided that evidence.  The site of America's enemies cheering as the a passenger plane burst into flame, incinerating all in its path, was more than most of us could bear or fathom.  The indignation of a nation that feels violated in a way unprecedented in US history cannot be ignored. Our rational self tells us there is no quick fix or bomb-ready solution, although the temptation to exact our pound of flesh immediately is understandable … and probably symbolically essential.  No, the long term solution is to enlist the support of all nations who understand that this barbaric assault is a threat to the entire world.  If America is vulnerable, then everyone is vulnerable. America's long term strategy should focus on rooting out terrorism wherever and whenever it rises. It's time for those countries who have been fence-sitting to understand that there is no accommodation, no tolerance when it comes to terrorism.  Let those who think they can get what they want by extortion and assassination understand that these are not the tools evolved societies use and honor.  The sad truth is that these destructive societal forms must be eradicated before rising from the ashes of their own destruction … one they seem intent on bringing upon themselves. Remember the innocent, the brave, and the families of those who lost their lives on September 11, 2001. (Note:  this reflection was written October 12.  Since then, the U.S. and Britain have bombed terrorists' installations and encampments in Afghanistan, October 8, 2001, and a new President, Hamid Karzai was elected by the loya jirga, June 13, 2002)
Westward Ho!
We recently returned from one of our regular excursions to the West Coast.  This time for business and pleasure.  The first half of the 11 day trip took me to the Syllabus Conference in Santa Clara.  While I love Northern California, this was my first trip to the much-vaunted Silicon Valley, and I was not impressed.  The area is a glorified industrial park.  Except for the weather (not an insignificant consideration), tech workers would find the quality of life in the Philadelphia far richer and more fulfilling. Read more about our trip in Interests.  August 2001.
We Have a New Toy!
Judy and I  have always been loyal Toyota owners (5 over the past 30-odd years), but this year another Avalon or one of those boxy Four Runners or Highlanders just didn't do it
for us. So we made a break.  Time for totally new car … and from the unlikeliest of places, Buick.  Check out the totally new 2002 Buick Rendezvous below.  It's a car/van/SUV/luxury vehicle.  To the best of our knowledge, we have the only one in the South Jersey/Eastern PA area.  The Tiger Woods media/marketing blitz ha
sn't yet begun, so we are enjoying the stares of persons who don't quite know what it is. Check it out!
Judy driving our New Rendezvous CLX
FIRE! This has been the year of "Home as Money Pit" … you know, one change or improvement leads to another, then to another, and then some more. Of course, that's to be expected when you live in a house that was built circa 1850. Let's see, first we installed a new standing metal roof, then there were repairs to the master bath … and let's not forget the great fireplace fire … or more properly fireplace smoke out. See what happened in Haddonfield on a recent Friday night. Click on the fireman at right. 1/12/01