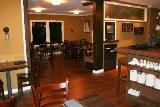 We were looking for someplace nearby to have lunch. We might normally have headed to Gigi's in Lafayette but we were told it closed several months ago. Since we always enjoyed eating lunch on their patio, we decided to check out what had replaced it … plus, Judy had a good feeling about the new restaurant. When we arrived it was 98⁰ outside, so patio dining didn't seem like such a "hot" idea. We went inside instead (we had never been inside the old Gigi's). I didn't even know the name of this new place.
After a friendly greeting from someone I thought might be the owner, we were seated at a table overlooking some nearby street construction. The small interior was pleasant enough, with dark mustard walls, white acoustic ceiling panels (it does get very loud), and Picasso-inspired paintings on the walls, hence the name … Artisan Bistro.
While we were waiting for our server, I googled the restaurant on my Storm and learned that the executive chef is John Marquez, whose resume includes stints at Bridges Restaurant in Danville, Fringale in San Francisco, and the French Laundry in Yountville. Sounded promising.
The first bit of good news was the appearance of a warm basket of sweet baguette accompanied by what we were told was home-churned butter. The server apologized for the bakery-bought bread but promised Artisan would be making its own soon.
She went on to tell us that the chef's goal is to do everything in-house, which prompted our first question … was the pate made in-house? The answer was yes. So, of course, Judy started with an excellent country pork pate, coarsely ground and accompanied by grain mustard, toast, cornichons, and pickled onions. I opted for the marinated red and yellow beet salad with endive, frisee, incredibly sweet apples, which was lightly dressed in shallot vinaigrette. But the topper was a side of warm California Crottin goat cheese.
For my main course I chose gnocchi , French-style and made from pâte a choux, usually a pastry dough, but when poached and gently sautéed in butter, produces soft, pillow-like, gnocchi. They were dressed with cauliflower florets, carrots, cherry tomatoes and pesto. I must say, these tiny strands of carbohydrate are lighter than traditional Italian-style gnocchi I am used to, which are typically, made from potatoes or ricotta and smothered in marinara or gorgonzola sauce.
Judy chose a roasted pork shoulder sandwich, Cubano-style, served on crunchily grilled baguette, with dijon mustard, dill pickles, swiss cheese and a side of sweet potato chips. It was so good we were inspired to make our own version at home the next day.
After a few, "wow, and "delicious" exclamations to our server, we were introduced to Mr. Marquez, who politely declined a handshake because his hands were still wet from an encounter with a fish. We expressed our pleasure with his food and promised we would return with others, whereupon he delivered a dessert for each of us "on the house".
Judy tried the Meyer lemon tart with fresh blackberries, and candied lemon. She loved it. I had his French vanilla ice cream layered with pound cake smothered in mango and blueberry and compote. Oh … and 2 glasses of Brassfield pinot gris at $9.00 per glass was a good accompaniment. Total bill, $77.57.
http://www.artisanlafayette.com/
1005 Brown Ave.
Lafayette, CA 94549
Call: 925-962-0882
Email: reservations@ArtisanLafayette.com